Are you tired of waking up with an achy back? Do you often feel like you haven't slept at all? It might be time to invest in a new mattress. And if you're looking for a hybrid mattress that combines the best of both worlds, then a 12 Inch Pocket Spring Mattress might be just what you need.

At 12 inches thick, this mattress is thicker than the average mattress. That means you'll have more support for your body while you sleep. The pocket spring design means the mattress will conform to your body shape and provide pressure relief for your pressure points. You won't have to worry about waking up with sore spots on your hips or shoulders.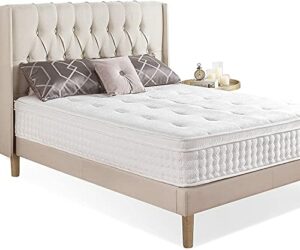 The Euro top on this mattress is a luxurious addition that provides an extra layer of comfort. This layer is quilted onto the top of the mattress and provides a soft, plush feeling. The Euro top also helps to distribute your body weight evenly across the bed, reducing pressure on individual points.

One of the most significant benefits of a pocket spring mattress is the reduction in motion transfer. If you share a bed with a partner, you know how frustrating it can be to feel every movement they make. With a pocket spring mattress, the springs are individually encased, so movement on one side of the bed won't be felt on the other side. You'll be able to enjoy a peaceful night's sleep without disturbance.

Another benefit of a pocket spring mattress is the increased airflow. The spring design allows air to flow through the mattress, preventing a buildup of heat. This is particularly helpful if you tend to run hot at night. You'll be able to sleep more comfortably without waking up in the middle of the night, drenched in sweat.

But with so many different types of mattresses on the market, how do you choose the right one? Here are some factors to consider:

Firmness: The firmness of a mattress is subjective and depends on your individual preferences. A 12 Inch Pocket Spring Mattress can range from soft to firm, so make sure you choose a level of firmness that will provide proper support for your body type and sleeping style.

Sleeping position: Your sleeping position will also play a role in the type of mattress you choose. If you're a side sleeper, you'll want a mattress with more pressure relief for your hips and shoulders. If you're a back sleeper, you'll want a mattress with more support for your lower back.

Budget: The cost of a mattress can vary widely. It's important to choose a mattress that fits within your budget, but also provides the necessary support and comfort for a good night's sleep.

So, if you're in the market for a new mattress, consider a 12 Inch Pocket Spring Mattress. With its combination of pocket springs and Euro top design, you'll enjoy a comfortable and supportive sleep experience, night after night.